Book reviews and a software review. Are you books ready for the Christmas shopping season? Do you need information on self-publishing options? Or do you need to improve your self-editing skills?
Today, I'll review a couple books and a software program.

BOOK REVIEW: 50 Ways to Sell a Sleigh-Load of Books: Proven Marketing Strategies to Sell More Books for the Holidays
[amazon_link asins='B07F29FRPL' template='ProductAd' store='patty0d-20′ marketplace='US' link_id='34f928ef-b508-11e8-b6e8-81568b5acd55′]Penny C. Sansevieri from Author Marketing Experts is known for savvy marketing tips to the indy community. I've read blog posts and listened to podcasts where she explains marketing in simple terms.
This book is a how-to book that inspires and explains how to get ready for the Christmas season. And it's almost too late! As the title says, there are 50 tips, plus a handy checklist. If you're actually marketing your books, many of these are obvious things: get your website ready, freshen up your cover, and make sure you have social media accounts in order. Some tips, however, are definitely on my to-do list: create a Pinterest board for book-centric gift buying ideas, create more videos, and plug your holiday connection via author central.
In other words, she covers the basics, but also stretches for the unusual strategies. I went into this book with some skepticism, but came out with some solid ideas.
That have to get done.
Tomorrow.
Because if you wait until November, you're sunk.
This is a book to buy today! But it won't work unless you get to work on some strategies immediately, she says to herself!
BOOK REVIEW: How to Self-Publish and Market a Children's Book
[amazon_link asins='B07G2MR4YJ' template='ProductAd' store='patty0d-20′ marketplace='US' link_id='4ddd45ae-b509-11e8-98e1-cbae2890af4e']Karen Inglis, British children's book author, does a solid job of explaining self-publishing to beginners. She makes the world of self-publishing simple and easy to understand. This isn't a how-to book, with in-depth instructions on how to create files, upload them, or create a marketing plan. Instead, it provides an overview of her process, which is quite valuable. Karen is UK based, so many of her recommendations tie into the UK indy community, but she also extends it to the international community.
As usual, what I liked best was her transparency in revealing sales numbers, the growing pains, and the successes. It's a successful intimate look at a successful children's book author and her process. (She writes children's books under the name Karen Inglis, but non-fiction under Karen P Inglis.)
SOFTWARE REVIEW: Pro Writing Aid Software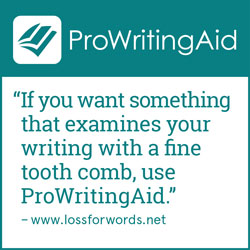 Do you ever wish you had a copy editor in your pocket? I've tried several software programs lately, searching for something that will help me create cleaner first drafts. Pro Writing Aid (Affiliate Link) has a nice variety of ways to analyze text and that finally pulled me in. I'm great at spelling, avoiding passive voice, and most style issues. But I recently analyzed a section of text that was about 500 words long and found that I had repeated "would" 30 times. Pro Writing Aid suggested that I reduce that to 11 times.
It's a computer text analysis, so it's merely telling you what is in your text. You decide if and when to revise. Maybe all 30 instances of "would" were appropriate, it doesn't know. It's just programmed to notice words that are used too frequently. You can download their free ebook that explains the various text items that the program flags: style, grammar, overused words, readability, cliches, sticky (too many common words in a sentence), diction, repeats, echoes, sentence variety, dialogue, consistency, pacing, pronouns and alliteration.
I loved the echoes, repeats, and overused words because it's often hard to see these in your work. You know they creep in, but you can't see it. I was surprised by the alliteration results because it's not something I'm conscious of at all. It found things like "live a life," "we wanted," and "when we." (Again, it's a computer program that is merely reporting what it finds in certain categories; I might change zero items, but at least I can see what I've done.) Pacing was fascinating when it highlighted slowly paced passages, and then listed the word phrases that slowed it down.
If you're an indy author, it's not a replacement for a copy editor. But I want to deliver a clean manuscript to a copy editor, so they can find the things that really matter instead of the silly errors. This is a fascinating (if somewhat nerdy) program! Happy editing!
NOTE: The software analyzed this write-up about the software and identified these areas of concern:
Style: 2 passive verbs, 8 adverbs outside dialogue.
Overused words:

It/there – used 13 times, recommend removing 4.
That – used 12 times, recommend removing 5.
-ly adverbs – used 8 times, recommend removing 1.
see/saw – used 3 times, recommend removing 1.
knew/know – used 2 times, recommend removing 1.

Readability: Reading time, 1 minute, 23 seconds. Easy to read. "It's a computer text. . . ." is a slightly difficult paragraph.
Cliches. None.
Sticky. None.
Diction. Word choices.

Vague & Abstract Words (11)

– would – would (2)
– all – all (2)
– about – about (1)
– like – like (1)
– certain – certain (1)
– slowly – slowly (1)
– down – down (1)
– really – really (1)
– silly – silly (1)

Diction or Word Choices

– in – in (1)
– appropriate – appropriate (1)
– frequently – frequently (1)
– down – down (1)

Sentence Variety. Avg Sentence Length (16.5) target 11 to 18
– 346 words in sentences / 21 sentences. Good sentence variety.
Pacing. Zero slow-paced passages.
Pronouns. Initial pronoun percentage unusually high (52.4%) Target 0%-30%
– Num initial pronouns (11) / Num sentences (21) * 100
Alliteration. None.
I revised nothing, so you can see what the program has highlighted.
Pro Writing Aid Writing Softwarehas a free trial, which allows you to analyze the first 500 words of a text.